Event Name:
Merrick's EMPOWER Lunch! - "Life Through Art"
Description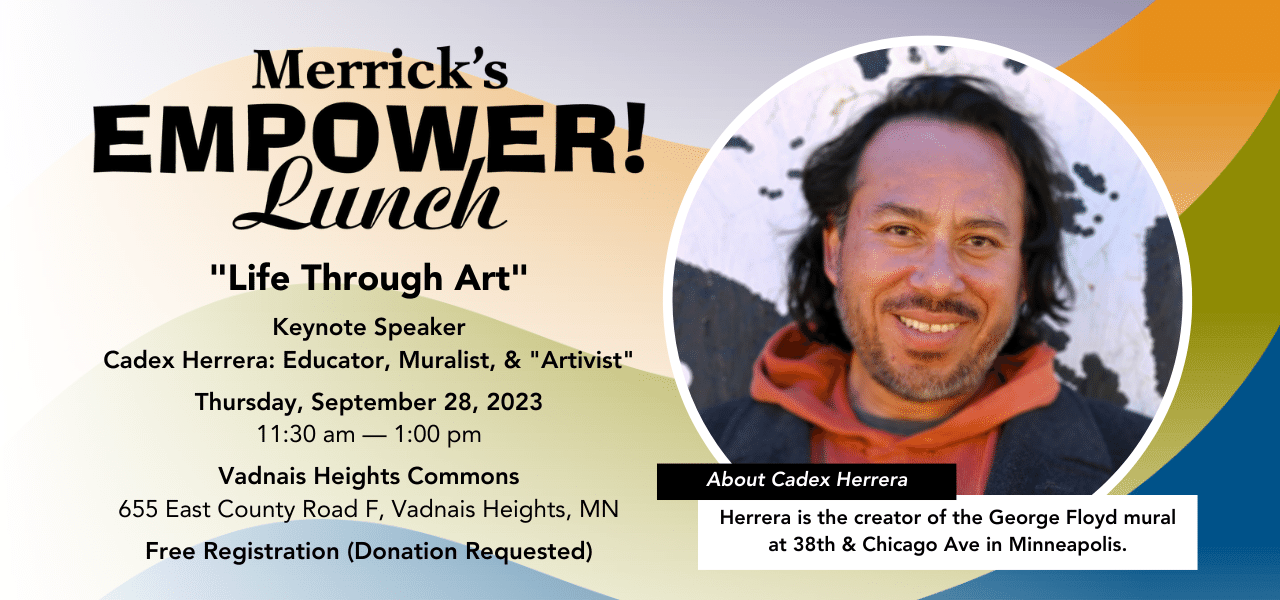 Thursday, September 28
Merrick's EMPOWER Lunch - "Life Through Art"
Vadnais Heights Commons
11:30am Check-In
12:00pm - 1:00pm Program and Keynote Speaker, Cadex Herrera
We're delighted to announce that this year's Empower! Lunch benefitting Merrick, Inc., will take place on Thursday, September 28, 2023, at Vadnais Heights Commons. The event will feature a keynote address titled "Life Through Art" from celebrated educator, muralist, and "artivist" Cadex Herrera. Herrera is the creator of the George Floyd mural at 38th and Chicago Avenue in Minneapolis. All are invited to join us for this free lunch event in which we will highlight why our community is better because of the services provided by Merrick, Inc., and inspire guests to financially support our goal of providing remarkable life enrichment programs.
If you were unable to attend this year's event, please consider making a donation via the online form below.
All funds raised benefit Merrick, Inc., and our goal to provide exceptional life enrichment programs for adults with disabilities.
Cadex Herrera is a multi-disciplinary artist. He seeks to raise awareness of humanitarian, social, and environmental injustices by championing his culture, history, people of color, immigrants, and marginalized groups. His aim is to create art that empowers the viewer and elevates the subjects and themes that he explores through his work.

To learn more about Cadex Herrera, visit HERE
Event Date:
09-28-23
Event Time:
11:30 AM - 01:00 PM CST
Location:
Vadnais Heights Commons
655 East County Road F
Vadnais Heights, MN 55110
Contact Person:
Megan Kuneli
(phone: megank@merrickinc.or)